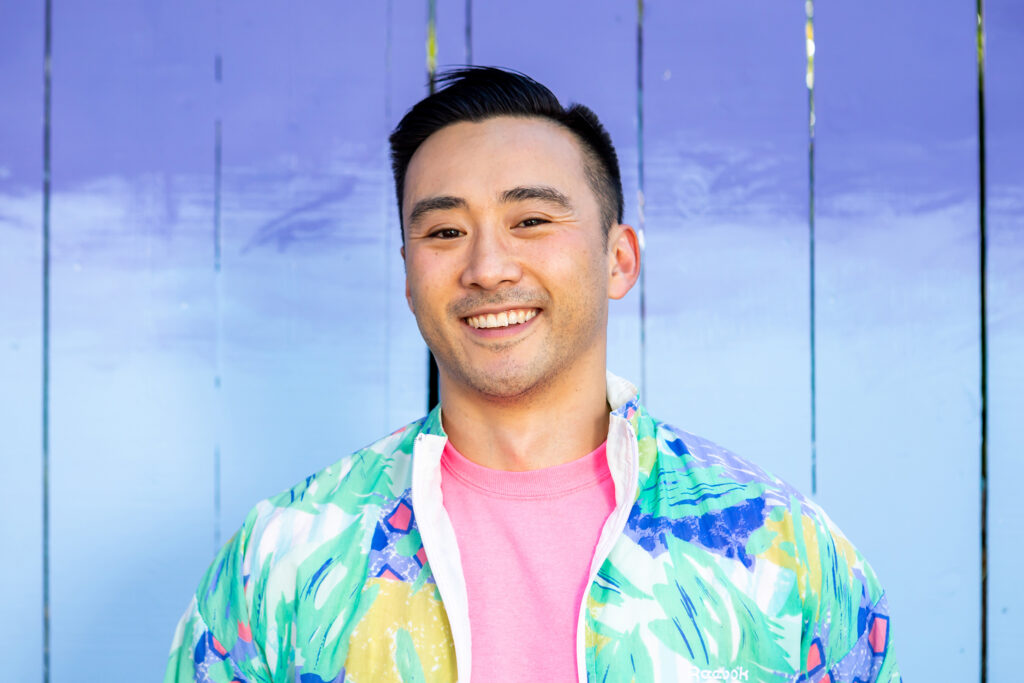 ASJA member Neil Savage introduced me to Alex Liu's YouTube videos and his documentary, A Sexplanation, several years ago. When we decided to host a virtual conference this fall, I knew I wanted Alex as the keynote speaker for the journalism track. I've been reporting on sexuality and gender for several decades, and I find those stories to be some of my favorite and most enjoyable to report. As I continue my work in this particular area, I'm feeling the pull to include myself in the narrative. And that's a difficult thing for a long-time journalist to face.
Addressing this topic at the conference seemed especially important given the rise of immersion and solutions journalism, as well as our current cultural, societal, and political atmosphere. Roe v. Wade was overturned, queer kids and teachers have become targets in our public schools, and libraries are being forced to remove sexually explicit books from their shelves (or being forced to close). How these issues are framed in the media is an important element of this discussion.
Alex's keynote is Thursday, October 13, 11:00 – noon ET. It is included with a full conference registration or registration for the journalism track. A recording will be available for registrants, and the keynote will have closed captioning. You can register or get more information about the conference here.
Laura Laing: You released your documentary, A Sexplanation, in 2021. What led you to make this film?
Alex Liu: When I was 18, I thought coming out as gay would solve all my sexual problems. But when I turned 30, I still felt massive amounts of shame around sex—shame that had nothing to do with being gay. After talking about it with friends, I found I wasn't alone. And only by making a documentary could I get access to some of the premier sex educators and researchers to really understand how to manage that shame on a societal scale.
LL: You also have a robust YouTube channel about sex education, called "Science of Sin." How did creating those videos influence your film?
AL: The YouTube channel started as an outlet to do something about the sex and drug education pitches none of my editors liked. And I found I liked the challenge of trying to make a comedic entertainment product and trying to sneak in some critical thinking about science and ethics.
LL: You've been a science and health reporter for many years now, working with NOVA scienceNOW, CNN Health, and KQED in San Francisco. What went into your decision to move from traditional journalism to documentary? Or do you think of documentary as an arm of traditional journalism?
AL: Pure narcissism. (Kidding! Kind of.) I do think the skill set of documentaries and traditional journalism is largely the same: research, hunting down sources willing to go on record, weaving a narrative out of facts, speaking truth to power.
But documentaries are first and foremost, films. That means in order to be good, you have to really dig deep to get to an emotional truth that can carry a story—it's entertainment. If I had known how challenging that would be, I don't know that I would have started the process.
LL: How did your journalism background help you make this documentary, and where do you think you deviated from the traditional tenets of reporting?
AL: Thanks to my journalism background, I knew how to find interview subjects, how to get them to trust me, what questions to ask to get good quotes, how to push them when I thought they were hiding any truths. I could communicate and contextualize complicated research.
But for the first time I made myself the center of the story—and I continually revealed my biases and agendas.
LL: Who is your audience for the film?
Honestly, any person who feels that sexual shame—shame about their body, their desires, their behaviors—is holding them back from health and happiness.
But in a way I didn't anticipate at the start, the film is really for families—especially new parents. We learn sexual shame early, but parents have a great deal of influence on how damaging it ends up being.
LL: You made a clear choice to center yourself in the film. What led you to that decision, and how was that both freeing and restricting?
AL: It was the only way I could figure out how to tell a story that could hold an audience's attention for 80 minutes. Once an audience connects with an emotional conflict, they want to stick around to see how it's resolved. I fought that decision for about four years, but once we made it, it freed us up creatively in a big way. The interviews became deeper and more engaging. The story quickly fell into place. We stopped flailing and became much more focused.
LL: One of the positives of the film is its explicitness; yet, there are times in interviews when you admit that being so explicit is challenging. Can you talk about what it was like to make decisions around this aspect? And if you had second-thoughts about these decisions, what helped you maintain your commitment?
AL: We found that the more I revealed my deepest, darkest shames in interviews, the better they were. The discussions became more intimate, more relatable, more human. And it soon became clear that the more discomfort I felt, the more we got the footage we needed to craft a character arc.
I had fourth, fifth, and sixth thoughts about being so exposed—but thanks to an amazing creative team I was able to slowly feel safer and safer to push through.
LL: Early in the film, you do a charming interview with your parents and grandmother in which they answer your questions honestly and without any visible embarrassment. You admit openly that you are nervous about the interview, but no one holds back. How did you prepare yourself and them for the interview?
AL: Mimosas! Also, my family were the only people I gave final cut approval to—I let them know anything they didn't like I would remove from the film, no questions asked.
Even then, I was pretty uncomfortable and held back a bit in that interview. I kept it more surface-level and intellectual–especially when compared to the interview that closes out the film when we're talking about my early masturbation habits and their sex lives.
But I think like a lot of families, these are discussions that we all tiptoe around to avoid imagined awkwardness—but really they're the conversations that we all kind of want to have because they make life more fun, interesting, and connected.
LL: What has the response to the documentary been?
AL: Hard to process! The fact anyone wanted to watch the film is just such a delight. But also that reviewers seemed to understand what we were trying to do is so satisfying and validating.
The fact that we were able to screen at film festivals around the world—that even Europeans connect to the message of sexual shame—has been so unexpected.
But the best responses have been from people who say that thanks to the film they were able to find the courage to have a conversation with their partner they've been putting off—some for decades. It makes the years of suffering making the film more than worth it.
LL: Looking back, is there anything you'd do differently?
AL: This was an amazing education on how not to make a documentary. I made every mistake you can make. But I think the main lesson I've learned is to embrace the self-doubt, imposter syndrome, and uncertainty as a core part of the process. I'm still working on it, but letting those anxieties fuel you rather than freeze you is something that I understand how to do much better.
LL: What advice would you give to journalists covering current events, health, gender, and/or sexuality, especially after Roe and as queer kids and their parents are being targeted in public schools in some states? How can freelance journalists get more explicit or at least comprehensive stories on these topics into mainstream press? Do you know of any outlets that are looking for these stories?
AL: I wish I had a good answer! I made this film precisely because I couldn't get more sex education stories into the mainstream press. But I think if you look at the stories today versus those 10-12 years ago when I started, we're in a much better place. (It's easier to see and hear the words vulva and clitoris than ever before.)
My personal advice is to understand all your preconceptions and prejudices—and find stories challenging those beliefs rather than reinforcing them. Some of the best interviews in the film in terms of audience response are from the last people I thought I'd get a sex education from: a conservative GOP state senator and a Catholic priest.

While I still disagree with them in most ways, it's those good-faith discussions that are the most interesting, the most complex, the most memorable. They provide a tension that produces better storytelling.
LL: What's next for you? Another documentary? More reporting?
AL: Sleep hopefully! But yes, the team and I are slowly cooking up some new possible documentaries about how to have difficult but much needed conversations about taboo cultural issues.
LL: Where can we see A Sexplanation?
AL: Go to asexplanation.com to find out where it's available in your country. And you can follow me @alexanderxliu on all social platforms to see if we might be doing an in-person screening in your area.
Browse Articles
Topic
Craft & Writing Skills, Freelance Life, Journalism