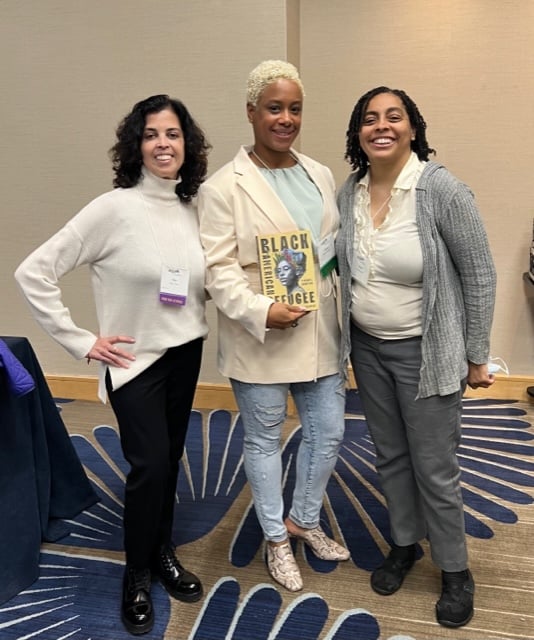 This year ASJA partnered with The Center for Independent Journalists, an organization for independent and freelance journalists of color, to offer those from under-represented backgrounds a scholarship to attend the 2022 ASJA annual conference in New Jersey. The scholarship aimed to introduce those from diverse backgrounds to ASJA, the organization's vast resources for independent writers, and a freelance community.
The scholarship included conference registration, travel up to $420, and two hotel nights for five members of the CIJ. Recipients were required to write a story for the ASJA website, newsletter, or magazine about a conference panelist or panel. Confidential will be sharing one recipient's post each day this week.
The leadership team at the CIJ chose five winners out of 16 applicants. The winners included two African American writers, one South Asian, and one Latina. They are Pamela Appea, J. Nailah Avery, Cassie Chew, Kalpana Jain, and Olga Lucia Torres.
Torres, who writes about living with disabilities and chronic health issues, Latinx cultural issues, and parenting, says though she had known about ASJA, she had never attended the conference because, "I didn't feel I was worthy of being in the company of these real authors and journalists." But after years of getting published and even submitting a manuscript to a literary agent, she felt confident in applying for the ASJA conference scholarship.
When Torres, who lives in New York City, was notified that she was one of the conference scholarship recipients, she says, "I felt like I won the authors' lottery."
"And the conference and fellow attendees didn't disappoint—gorgeous hotel and location, amazing sessions chock full of information, and such nice people (ASJA members and future members alike)," she adds.
Torres has already applied for ASJA membership, pointing to the organization's freelance community, networking, and opportunities to meet editors. She also plans to join the DEAI task force.
The conference, she says, "ignited a fire in me to write more, change things up, and be open to new possibilities."
During the conference, the scholarship recipients attended a networking lunch that included conference speaker Alan Henry, ASJA president Laura Laing, ASJA vice president and DEAI task force member Emily Paulsen, conference co-chair Jen Billock, and a few members of the DEAI task force.
"I had the pleasure of meeting our scholarship recipients during the conference. Not only were they wonderful company, but they were so grateful for the opportunity to attend the conference," says ASJA president Laura Laing. "I am so excited that several are planning to join ASJA as members."
ASJA vice president Emily Paulsen says the ASJA scholarship recipients were "active participants in the sessions" and "jumped right into all ASJA [had] to offer at the conference."
"We have had such a positive response from the scholarship awardees at the conference and afterwards," says Paulsen. "Whenever I saw the scholars in sessions or in the hallways, they were thoroughly engaged, listening and talking to other attendees and panelists."
Kalpana Jain, another recipient, had never heard of ASJA and applied for the scholarship because she had been looking for a community of writers, specifically freelancers, to find support for her work.
Jain, who lives in Cambridge, Massachusetts, and writes about religion, public health, and Hindu nationalism in India, said she found the ASJA conference a place where she could build future client connections. She was also impressed with the range of sessions at the conference, her favorites being the nonfiction book track and pitching sessions. "I learned a lot of valuable tips," she noted.
For example, Jain says she picked up tips on writing effective subject lines, framing pitches, the best time to get an agent, and thinking from a publisher's point of view. Jain's experience was so positive at the 2022 ASJA conference that she's already applied for an ASJA membership, saying she valued what she learned and the people she met.
"I came away with important learnings and some good connections. I've already connected with some people on Twitter and on email," said Jain. "I now have a community to reach out to when I'm feeling lost about who and where to pitch, and that's important for me."
Scholarship recipient Pamela Appea also noted how warm and welcomed she felt at the ASJA conference. It was the first time she had attended an in-person conference since before the pandemic. The Queens, New York, resident says she learned about ASJA from her teacher and mentor Susan Shapiro, a long-time ASJA member.
"The ASJA conference helped me take a hard look at what my writing goals are for 2022 and beyond," says Appea, who writes about health and wellness, social justice, and other issues related to communities of color.
Appea says her goals in attending the ASJA conference were to network and learn from the panel discussions. She was not disappointed. Appea plans to pitch editors she met at the conference and connect with ASJA members in the book publishing and content writing fields. Like Torres and Jain, Appea also plans to become an ASJA member.
"I am grateful that I was selected for the scholarship opportunity," says Appea. "I recommend that if you have never been to an ASJA conference before, maybe consider attending next year's conference. It was a great experience."