Writing Award Winners 2000-2009
2009 Winners
Outstanding Book
2009 General Nonfiction
Kimberly Lisagor and Heather Hansen
Disappearing Destinations
Vintage
2009 Service, Self-Help, Collaboration
Kathy Seal and Wendy Grolnick
Pressured Parents, Stressed Out Kids
Prometheus
Extraordinary Service Award
2009
Cecil Murphey

Career Achievement
2009
Robin Marantz Henig

June Roth
2009 Medical
Linda Marsa
Acid Test
Discover
2009 Medical
Douglas Fox
The Private Life of the Brain
New Scientist
2009 Medical
Katherine Eban
Your Hospital's Deadly Secret
Portfolio
Outstanding Article
2009 First Person
Margie Goldsmith
In a Way, He Took Our Lives, Too
WashingtonPost.com
2009 First Person
Kristin Ohlson
Watching TV in Kabul
New York Times Magazine
2009 Profile
Shari Caudron
Uncorked
5280, Denver's Magazine
2009 Profile
Todd Pitock
The Toughest Adventurer?
Discovery Channel Magazine
2009 Profile
Andrea Cooper
Am I Nothing But What I Remember?
Neurology Now
2009 Service
Florence Williams
Is it Safe to Heat Food in Plastic?
Good Housekeeping
2009 Reporting on a Significant Topic
Siri Carpenter
Buried Prejudice
Scientific American Mind
2009 Reporting on a Significant Topic
Florence Williams
The Runner's Footprint
Runner's World
2009 Reporting on a Significant Topic
Michelle Nijhuis
The Doubt Makers
Miller-McCune
2009 Trade
JoAnn Greco
La Vida Local
Planning
2009 Trade
Michele Meyer
When Old Meets New
IIDA Perspective
2009 Trade
John Rosengren
Lakers vs. Globetrotters–1948
Mlps. St. Paul
2009 Business/Technology
Michael Fitzgerald
Clawing Back
Boston Globe Magazine
2009 Business/Technology
Michael Fitzgerald
Hotbed
Fast Company
2009 Business/Technology
Michele Meyer
The Secret Power of Tweens
USA Weekend Magazine
Outstanding Book
2009 General Nonfiction
John Rosengren
Hammerin' Hank, George Almighty & The Say Hey Kid
Sourcebooks
2009 General Nonfiction
Cheryl Harris Sharman
Nightshift NYC
U. of California
2009 Service, Self-Help, Collaboration
Tina Adler
Alzheimer's Action Plan
St. Martin's Press
2008 Winners
Arlene
2008
Christie Aschwanden
Through the Forest, A Clearer View of the Needs of A People
New York Times
Outstanding Book
2008 Service, Self-Help, Collaboration
Wendy Lyons Sunshine
The Connected Child
McGraw-Hill
Career Achievement
2008
Sarah Wernick

Donald Robinson Memorial
2008
Katherine Eban
The War on Terror: Rorschach and Awe
VanityFair.com
June Roth
2008
Richard Laliberte
Doctor Where Art Thou
Prevention
Outstanding Article
2008 First Person
Margie Goldsmith
The Sense of Being Stared At
2008 Service
Bob Cooper
Road Tested
Runner's World
2008 Profile
Michelle Nijhuis
Of Murder and Microscopes
Sierra
2008 Trade
Michael Fitzgerald
L0pht in Transition
CSO
2008 Reporting on a Significant Topic
Todd Pitock
Science and Islam
Discover
2007 Winners

Arlene
2007
Melba Newsome
True Crimes, False Confesions
O, the Oprah Magazine
2007
Lisa Armstrong
It Takes a Village
Essence
2007
Christine Larson
A New Way to Ask, 'How Green Is My Conscience?"
The New York Times
2007
Katherine Eban
Dangerous Doses
Outstanding Book
2007 General Nonfiction
Edwin Black
Internal Combustion
2007 General Nonfiction
Victor Chase
Shattered Nerves
2007 Service, Self-Help, Collaboration
Allen and Linda Anderson
Rescued: Saving Animals from Disaster
2007 Service, Self-Help, Collaboration
Carol Evans
This is How We Do It, The Working Mother's Manifesto
Outstanding Article
2007 Business/Technology
Michael Fitzgerald
Grand Plans
Boston Globe Sunday Magazine
2007 Business/Technology
Alison Stein Wellner
Gary Heavin is on a Mission from God
Inc.
2007 Personal Essay
Christie Aschwanden
One Daughter, One Dad, Two Bikes
Health June 2006
2007 Personal Essay
Lisa Collier Cool
Rescuing Rosalie
Ladies' Home Journal
2007 Reporting on a Significant Topic
Jonathen Green
Hooked on the Gold Rush
The Mail
2007 Service
Christine Larson
Taking Care of Mom and Dad
U.S. News and World Report
2007 Service
Russell Wild
Your Take-Charge Guide to Affordable Health Care
AARP: The Magazine
2007 Profile
Sarah Richards
Master of the Guillotine
The Walrus Magazine
June Roth
2007 Medical
Lisa Collier Cool
Saving the Smallest Patients
Good Housekeeping
Career Achievement
2007
Claudia Dreifus

Extraordinary Service Award
2007
Claire Safran
2006 Winners
Arlene
2006
Miriam Rafter
Monkey Business: A Look at Vote-Counting Mischief and the Potential fo
City Beat (San Diego)
2006
Michele Wojciechowski
For the Love of Laurie
Family Circle
Outstanding Book
2006 General Nonfiction
Charles Henderson
Goodnight Saigon
2006 General Nonfiction
Nancy Rubin Stuart
The Reluctant Spiritualist
2006 Service, Self-Help, Collaboration
Catherine Wald
The Resilient Writer
2006 Service, Self-Help, Collaboration
Judi Culbertson and Marj Decker
Scaling Down
2006 Children
Rachel Dickinson
Tools of Navigation
Outstanding Article
2006 Business/Technology
Craig Canine
Building a Better Banana
Smithsonian Magazine
2006 Business/Technology
Melba Newsome
He Took On the WholePower Tool Industry
Inc. Magazine
2006 Personal Essay
Janine Latus
All the Wrong Men
O, The Oprah Magazine
2006 Reporting on a Significant Topic
Robin Marantz Henig
Will We Ever Arrive at the Good Death?
The New York Times Magazine
2006 Reporting on a Significant Topic
John Rosengren
To Hell and Back
Minneapolis/St. Paul Magazine
2006 Service
Karen Hammond
There's Still a Girl in There
Family Circle
2006 Profile
Michelle Nijhuis
Madame Butterlfy
Sierra Magazine
2006 Profile
Jessica Seigel
Secrets of the Bonobo Sisterhood
Ms. Magazine
June Roth
2006 Medical
Lisa Collier Cool
Could You Be Forced to Have A C-section?
Baby Talk Magazine
2006 Medical
Linda Marsa
Danger at the ER
Ladies' Home Journal
2006 Medical
Katherine Eban
Dangerous Doses
2006 Medical
Cheryl Dellasega
The Starving Family
Career Achievement
2006
Gloria Hochman

Donald Robinson Memorial
2006 Investigative Journalism
Salley Shannon
Witness on Board
Los Angeles Times Magazine
Extraordinary Service Award
2006
Brett Harvey
2005 Winners
Arlene
2005
Bob Cooper
Rich in Books
San Francisco Cronicle Magazine
2005
Kim Kavin
The Crisis Cops
Northeast Sunday Magazine of The Hartford Courant
Outstanding Book
2005 General Nonfiction
Robin Marantz Henig
Pandora's Baby: How the First Test Tube Babies Sparked the Reproductiv
2005 General Nonfiction
Kathryn Black
Mothering Without a Map
2005 Service, Self-Help, Collaboration
Barbara DeMarco-Barrett
Pen on Fire
Outstanding Article
2005 Reporting on a Significant Topic
Salley Shannon
The New Hazard on the Highway
Good Housekeeping
2005 Service
Christie Aschwanden
The Kitchen Comes Clean
Health
2005 Service
Richard Laliberte
Time of Your Life
Best Life
2005 Profile
Idelle Davidson
The Shy Savant
Los Angeles Magazine
2005 First Person
Rebecca Skloot
When Pets Attack
New York Magazine
June Roth
2005 Medical
Robin Marantz Henig
The Quest to Forget
The New York Times Magazines
2005 Medical
Tamara Eberlein
Blood-Clotting Disorders
Redbook
Career Achievement
2005
Alvin and Heidi Toffler
2004 Winners
Outstanding Book
2004 General Nonfiction
Kristin Ohlson
Stalking the Divine
2004 General Nonfiction
Andrea King Coller
Still with Me: A Daughter's Journey of Love and Loss
2004 General Nonfiction
Steve Kemper
Code Name Ginger: The Story Behind Segway and Dean Kamen's Quest to In
2004 Service, Self-Help, Collaboration
Betty Rothbart
Healthy Teens, Body and Soul: A Parent's Complete Guide to Adolescent
2004 Service, Self-Help, Collaboration
Jennier Lawler
Dojo Wisdom: 100 Simple Ways to Become a Stronger, Calmer, More Courag
2004 Children
Mary Collins
Airborne: A Photobiography of Wilbur and Orville Wright
Outstanding Article
2004 Business/Technology
Anita Bartholomew
Balance
MBA Jungle
2004 Business/Technology
Claire Tristram
Supercomputing Resurrected
Technology Review
2004 Personal Essay
Marian Sander
Listening to Zebras
Washington Post
2004 Reporting on a Significant Topic
Gloria Hochman
Pain
Philadelphia Inquirer
2004 Service
Cheryl Platzman Weinstock
What a Difference Five Years Makes
More
2004 Profile
Dan Ferber
The Man Who Mistook His Girlfriend for a Robot
Popular Science
June Roth
2004 Medical
Melba Newsome
Genetic Roulette
O, The Oprah Magazine
Career Achievement
2004
Ruth Winter

Donald Robinson Memorial
2004 Investigative Journalism
Trish Riley
Toxic Schools
South Florida Parenting
2004 Investigative Journalism
Claudia Dreifus
Women On Death Row
Ms. Magazine
2003 Winners
Outstanding Book
2003 General Nonfiction
Edwin Black
IBM and the Holocaust: The Strategic Alliance between Nazi Germany and
Outstanding Article
2003 Business/Technology
Claire Tristram
Data Extinction
Technology Review
2003 Reporting on a Significant Topic
Melba Newsome
The Devil You Know
Los Angeles Times
2003 Service
Cheryl Reed
Monastic Experience: Finding a Hermitage of One's Own
Poets & Writers, May 2002
2003 Service
Cheryl Platzman Weinstock
A Place for Us
Woman's Day
2003 First Person
Paul Perry
X Marks the Spot
National Geographic Adventure, March 2002
2003 First Person
Mary Collins
Don't Have a Seat
Washington Post
June Roth
2003 Medical
Lisa Collier Cool
Saving Sophie
Self
2003 Medical
Sarah Wernick with Claudia I. Henschke and Peggy McCarthy
Lung Cancer: Myths, Facts and Choices
Career Achievement
2003
Hal Higdon

Donald Robinson Memorial
2003 Investigative Journalism
Edwin Black
Final Solutions: How IBM Helped Automate the Nazi Death Machine in Pol
Village Voice
2002 Winners
Outstanding Book
2002 General Nonfiction
Erich Hoyt
Creatures of the Deep
Firefly Books
2002 General Nonfiction
Bruce Henderson
Fatal North
2002 Service, Self-Help, Collaboration
Dianne Partie Lange et al
Informed Decisions
2002 Children
Andrea Warren
Surviving Hitler
Outstanding Article
2002 Business/Technology
Claire Tristram
It's Time for a Clockless Chip
Technology Review
2002 Reporting on a Significant Topic
Sara Solovitch
Citizen Scientists
Wired
2002 Service
Sally Stich
The Most Important Discussion You Must Have
New Choices
2002 Profile
Florence Williams
Roquefort Files
Outside
2002 First Person
Andrea Cooper
Is This is Madness
Hope
June Roth
2002 Medical
Jack El-Hai
The Lobotomist
The Washington Post magazine
Career Achievement
2002
Bonnie Remsburg
2001 Winners
Outstanding Book
2001 General Nonfiction
Cathy Crimmins
Where is the Mango Princess?
2001 Service, Self-Help, Collaboration
Michael Smolensky, Ph.D. and Lynne Lamberg
The Body Clock Guide to Better Health
Outstanding Article
2001 Reporting on a Significant Topic
Lisa Collier Cool
Could You Get Hooked On This Pill
Self
2001 Reporting on a Significant Topic
Timothy Harper
Shoot to Kill
The Atlantic Monthly
2001 Service
Michele Meyer
The Gift of Health
Remedy Magazine
2001 First Person
Andrea Cooper
Doing the Frango
Salon.com
June Roth
2001 Medical
Marian Sandmaier
The Breakthrough
The Family Therapy Networker
2000 Winners
Outstanding Book
2000 Service, Self-Help, Collaboration
Dr. Barbara Luke and Tamara Eberlein
When You're Expecting Twins, Triplets or Quads
Harper Perrenial
2000 Service, Self-Help, Collaboration
Anonymous and Timothy Harper
License to Steal
HarperBusiness
Outstanding Article
2000 Service
Florence Williams
Near to the Ground: The Environmental Report Card
Outside Magazine
2000 First Person
Claire Tristram
Why I Have Never Seen the Mona Lisa Smile
Trips Magazine
2000 First Person
Andrea Warren
The Angels of Vietnam
The World & I
June Roth
2000 Medical
Beryl Lieff Benderly
Gene Tests: Are They for You?
InTouch Magazine
2000 Medical
Victoria Secunda
When Madness Comes Home
Hyperion
Career Achievement
2000
None
Past Award Winners 2010-2020 I 1990-1999 I 1980-1989 I 1975-1979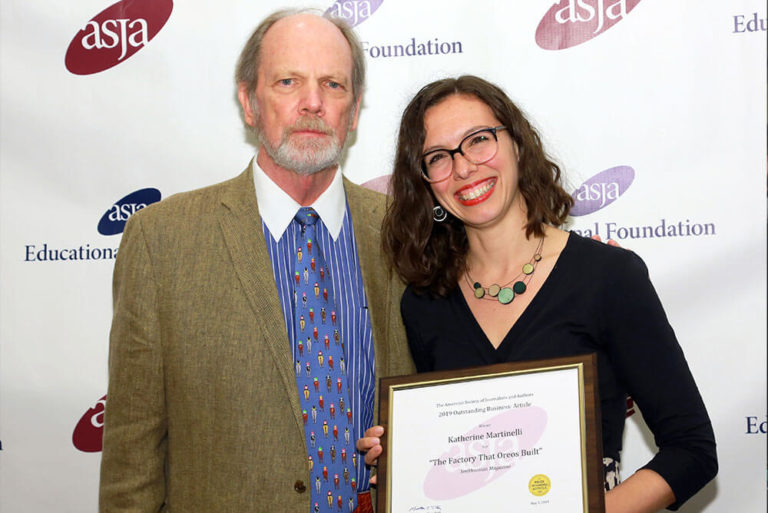 Awards
ASJA relishes in the opportunity to recognize exceptional freelance writing and writers. Our annual awards program highlights stellar nonfiction articles, essays, books, and content marketing writing in a variety of categories.
Learn more