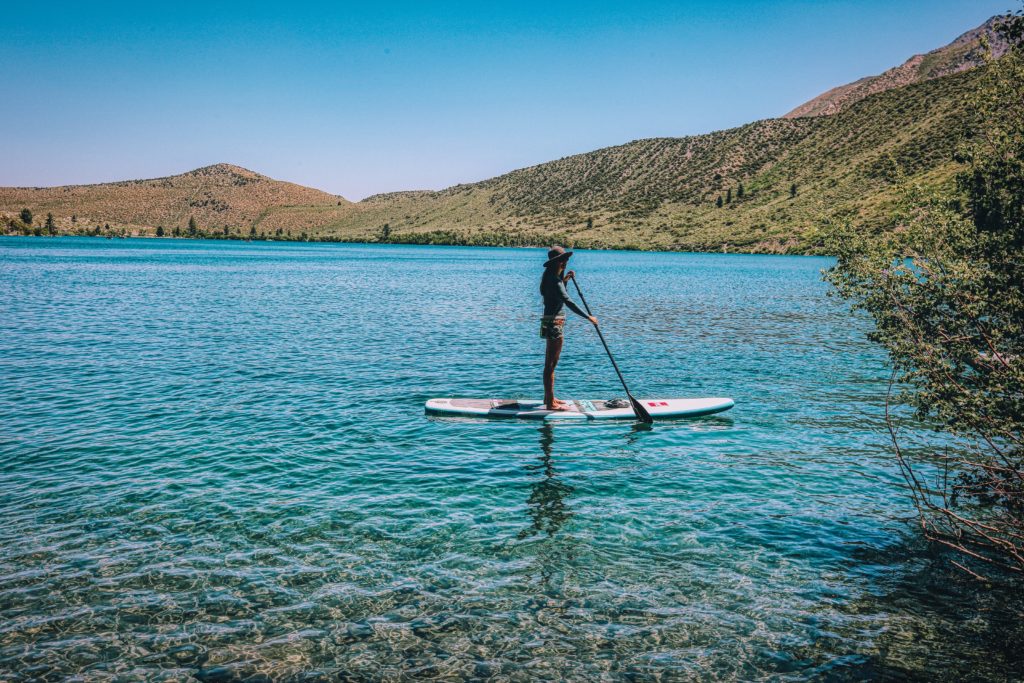 It started out as a normal assignment. As much as anything can be "normal" for a generalist who covers everything from business management for private country clubs to breast health for women to travel tips for people who take their pets on vacation. I headed to Gulf Breeze, Florida to interview one of the owners of YOLO Board, makers of stand-up paddleboards. In some ways YOLO boards had become the generic for the sport, which is a hybrid of kayaking and surfing.
Going into it I was concerned the interview was going to prove logistically challenging: trying to take notes while learning to stand on a fiberglass board with a paddle in hand. Two hours later, that was the least of my concerns. I was psyched to have a good interview. But I was also anxious to find somewhere I could paddle back home.
The more I learned about stand-up paddling (SUP), the more I came up with angles I could pitch to magazines about the sport. But more than wanting write about it, I wanted to do it. I had spent most of my life avoiding being an athlete, choosing writing over running for decades. But within months of stand-up paddling introduction, I hired a coach, bought a board and paddle, and was training for my first race.
As a reporter and writer, I tend to listen to people, to ask questions. The more I paddled, the more I talked. I answered questions. I wanted to be able to "share the stoke," as the paddlers and surfers say, with my friends. I wanted to have additional boards available to rent, so that friends and friends of friends could do so as well. Less than a year from the time I first paddled I started Nashville Paddle Co., a small business that offers paddleboard rental, lessons and delivery.
Having a second business, even a seasonal one, is certainly a challenge, juggling liability insurance and weather forecasts with wordsmithing and deadlines. But there are skills that I have cultivated in almost two decades as a freelancer that have translated well:
Multitasking. Every successful freelancer knows how to work on several deadlines at once, reporting, writing and self-editing while simultaneously sweating a revision or a query or a book proposal. The ability to focus on many things at once comes in handy when several people want to return paddleboards while others want to rent while a storm warning comes across the radar, all while fielding calls from UPS about a gear delivery and an insurance agent with a new quote.
Curiosity. Writers and journalists can pick up the phone and ask anyone anything. That's a great confidence boost going into a new business. If I don't know how do repair a board or which piece of equipment to order or how to handle an issue, I'll pick up the phone and chat with the folks who are the best in the business. One of the reasons I love SUP is that the community is generous and welcoming.
Attention to detail. Nashville Paddle Co. has a different legal structure than my writing business, but the obsessive bookkeeping of the last 20 years trained me for the kinds of recordkeeping necessary in the new business. And, it makes me aware of the benefits of tax-deductible expenses. I just ordered a new inflatable SUP board (for travels and rivers with a stronger current) so that I could take advantage of both off-season discounts and the expense line item on my 2012 taxes.
Turning another thing I love (paddling) into more than a pastime has strengthened my writing and commitment to my career as a writer. Having a seasonal, weather-dependent business has forced me to be more efficient. I need to write and report and rainy and windy days so that I can be outside on nice ones. It is currently 70 degrees on a December afternoon. I think you know where to find me.