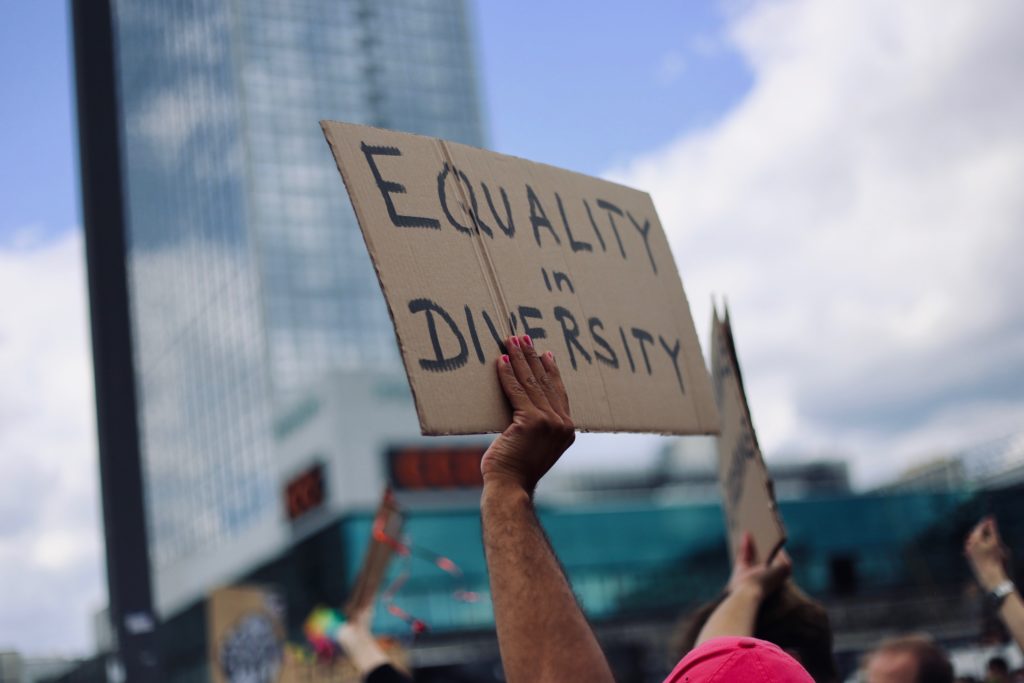 Diversity is having a seat at the table.
Inclusion is about having a voice.
Belonging is about having that voice be heard.
— Liz Fosslien and Mollie West Duffy
Diversity is an important discussion in all sorts of places. Companies are being criticized for all-white, all-male c-suites, boards, and tech departments, and brands are getting better at featuring people of color, disabled individuals, and queer folks in their advertisements and product designs. Meanwhile, professional sports teams are advertising their support of Black Lives Matter and pulling out of venue contracts in regions that don't support trans rights. It seems like we're coming a long way in this conversation, but this is only a tiny first step. It's easy to state diversity as an important initiative. It's much harder to undergo the work to actually achieve diversity, equity, and inclusion.
"Diversity matters because our society is undergoing a seismic shift in awakening to the need to share power, in all quarters, with groups who had been marginalized in the past," says ASJA board member at-large Parul Kapur Hinzen. "It's a step toward acknowledging the nation we have become."
At ASJA, we've long known our membership is far too homogeneous. Most of us are middle-aged, middle-class, white, straight, able-bodied, cis women, and while it's difficult to pinpoint the demographics of all freelancers, we know that there are more writers of color, queer writers, economically disadvantaged writers, disabled writers, and young writers who are qualified to join ASJA but don't. This isn't just a membership-growth issue. Actively seeking a diverse membership, as well as ensuring equity and inclusion of under-represented writers, is the right thing to do. There are very important (and difficult) reasons that our membership is relatively homogeneous. We need to know what those are.
As the late journalist Gwen Ifill said, "Diversity is essential to the success of the news industry, and journalists must include diverse voices in their coverage in order to reach a broader audience. We have stories to tell, but many in our audience have stopped listening because they can tell that we're not talking about them." The same applies to the content marketing and book publishing industries, and if ASJA is the voice of independent writers throughout the country, all independent writers—regardless of race, ethnicity, class, physical disabilities or neurological differences, economic status, gender identity, or sexuality—should feel like they belong in our organization. In addition, having under-represented writers among our membership is a growth opportunity for individual members, who are frequently being asked to include diverse lists of sources in their writing.
"Study after study has shown that organizations and their members benefit when there are more diverse voices in the room," says ASJA Secretary and Virtual Client Connections co-chair Lisa Rabasca Roepe. In our attempts to improve our programming and member benefits, as well as increase our voice, ASJA must embrace systemic, sustainable, and genuine diversity efforts.
These are the general reasons that the ASJA board and committees are dedicated to addressing diversity, equity, and inclusion (DEI) this year. I won't lie: the task is daunting, partly because it's an initiative that must span all of our programming: from membership to client networking to publicity to conference planning and more. But it's also hard because our membership and leaders are largely those with societal privilege: white, middle-class, able-bodied, straight and cis. For this reason, the board will be appointing a DEI Task Force to investigate our blind spots in DEI and recommend actions to combat them. We're taking this approach—rather than quickly implementing ideas that come from the board and committee members—so that we can address our homogenous membership systemically. In other words, why we're not a diverse organization is critical. The answer to that question may not be obvious, and the potential solutions may be unexpected.
This process will be intentionally slow and deliberate. We know from experience with other organizations that taking action before evaluating the issues at hand is not likely to produce long-term success. Therefore, the task force will be charged first with developing some basic principles, including definitions and statements of our commitment. In addition, the task force will work independently of the board, offering recommendations to leadership only when they have completed other important responsibilities like research. The board will not define outcomes for the task force, but allow the group to come to those goals as a natural result of its work. The final result will be not only be quantitative, but include a qualitative understanding of where ASJA wants to be at various stages of the process and how we plan to get there. We'll be building a foundation that the organization can stand on—and safely modify—for years to come.
You'll notice that there are three pillars to DEI. Diversity is perhaps the most visible. ASJA wants to have a membership that better reflects the demographics of professional freelance writing. In addition, we want to be a place where under-represented writers can have a true voice, a better opportunity to succeed in their work, and a place where they can go for support and community. We also want to be flexible in this approach, as the definition of an under-represented writer shifts. For now, however, we'll focus on the generally accepted understanding of under-represented writers: people of color, indigenous or native people, economically disadvantaged people, disabled people, and queer people, especially transfolk and those who identify as genderqueer.
Equity refers to promoting justice, impartiality, and fairness within ASJA. Sometimes, these tenets may seem to be in conflict with one another. For example, ASJA's VCC program has already launched a process for under-represented writers in its sign ups. When a client wants to hear pitches from Black writers or trans writers, for example, our Black or trans members have the opportunity to sign up for appointments before anyone else. This may feel unfair, but it is just. Because under-represented writers often get lost among writers with more privilege, and because the reasons they are under-represented are often invisible, this process actually levels the playing field. In addition, we're responding to something our clients are asking for, making it more likely that they'll get what they need and participate in future events. "There are always slots available the next day for everyone else, making it a win-win for ASJA, our members and the clients," Roepe says. Equity is rooted in a full understanding of who under-represented people are and the root causes of this under-representation. Many times, those with privilege don't know or understand those root causes without careful examination and research.
In my opinion, inclusivity is the most important and difficult element of DEI, perhaps because it's so dependent on individual ideals and actions. The anti-racism scholar who coined the term "intersectionality," Kimberlé William Crenshaw, notes, "If you don't have a lens that's been trained to look at how various forms of discrimination come together, you're unlikely to develop a set of policies that will be as inclusive as they need to be." This is why we must move slowly through this process. We can do a lot of harm when we leap into solutions before it's time.
We know this from experience. At the 2018 annual conference, when the president of the NLGJA (the queer journalists membership association) began his keynote by announcing his pronouns, several members of the crowd laughed uncomfortably. At that same conference, an attendee at a panel on diversity adamantly questioned a panelist's use of the
phrase "enslaved people," disrupting the session. I'm not suggesting that all of us should be naturally comfortable in situations that feel new to us. Instead ASJA leadership can be more proactive in helping members get comfortable and members can learn to be curious rather than confrontational. Inclusion has a long learning curve. We need to be patient with ourselves, while setting high and appropriate standards for how we are with one another.
And let's face it, ASJA is behind the curve on this. After the 2018 conference, we lost several trans members, who resigned because they didn't feel safe, and I'm certain that the Black panelist who was challenged for her choice of words (a phrase that has been in the lexicon for many years) felt threatened. We can do better, but we have to work at it.
But this isn't about making sure we keep members. Last summer, after ASJA made its statement condemning the arrests of journalists at Black Lives Matter protests, we received an angry letter from a long-time member who subsequently resigned. It is very possible that some of you feel uncomfortable with our commitment to DEI. And if you have felt marginalized in ASJA, you might feel that DEI efforts are not enough. That's absolutely fair. The board recognizes that we'll take missteps and fail to do enough. We know that we'll make some of our members uncomfortable by asking them to think about very difficult ideas that most of us don't have a lot of experience with. We also know that some of our under-represented members will consider this step cynically. We still need to try, and keeping those potential failures and our discomfort in mind will help us get back on track when we do make mistakes.
I'm asking that you keep an open mind about this process. It will, at turns, feel too slow and too fast. There will be times when you're unsure of what's happening behind the scenes. The board and committee chairs, as well as the DEI task force will do its best to keep you informed, answer your questions, and respond to requests for more discussions. We want your input and your ideas, but most of all, we're hoping for your trust in this process. We'll do everything in our power to earn it—and keep it.
Lastly, if you're interested in being a part of the DEI Task Force, please email the office at asjaoffice@asja.org. Naturally, this initiative must be led in part by under-represented writers, so we're particularly looking for members who are people of color, trans, genderqueer, economically disadvantaged, and/or disabled. It is also critical that this task force includes people with experience in these types of initiatives.
I hope you'll reach out with your questions and comments. (Please use the ASJA office email address.) The excitement and trepidation that I feel seems exactly right for this endeavor, but mostly, I'm optimistic. I look forward to many more discussions.
I think ASJA board member and VCC co-chair Stacey Freed said it best: "On a basic level DEI matters because it just seems like the right thing to do. We can only grow stronger as an organization if we include different people."
Photo by Amy Elting on Unsplash