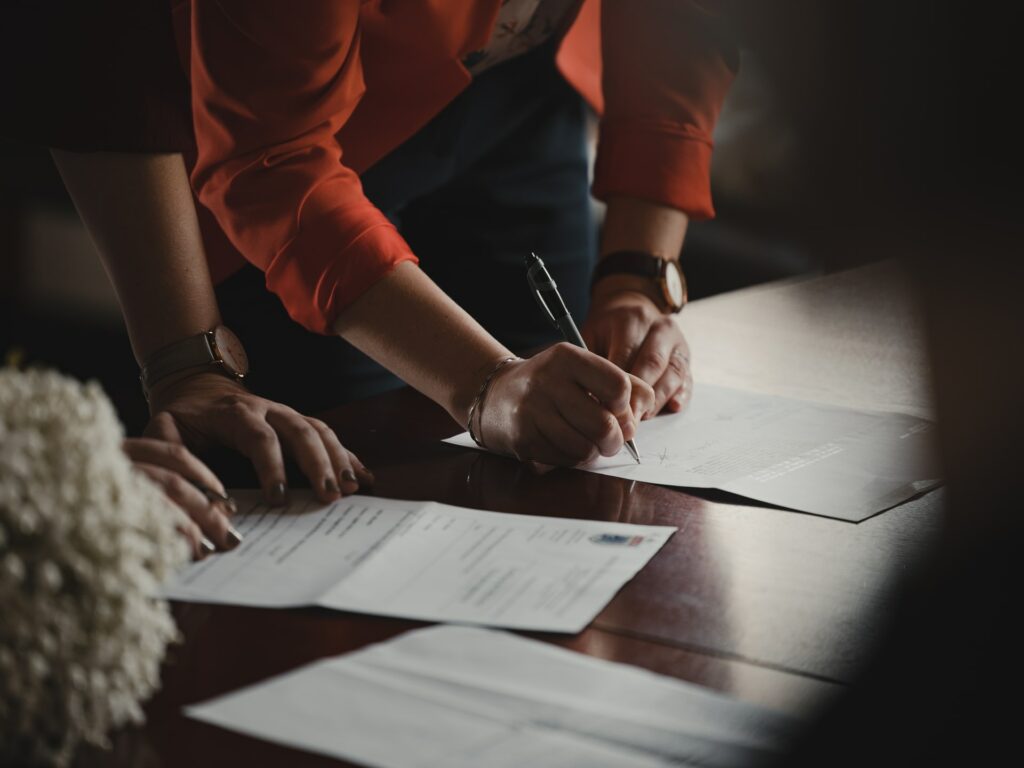 With more than two decades as a staff and independent business reporter and content creator, longtime ASJA member Michelle V. Rafter has signed her name to dozens of contracts. Her recent foray into ghostwriting confirmed for her an adage in life and business—one she shared with me at ASJA's 2022 conference in Jersey City earlier this month.
"Everything is a negotiation," Rafter said when I cornered her at the end of the morning session.
Even as Rafter was set to meet a group of attendees for their snack chat lunch, she paused to drop some knowledge on me about the art of negotiation obtained during the signing of a contract for her latest venture—a book she is preparing to ghostwrite for an executive in the HR technology industry.
Though contracts between individual writers and publishers may seem ironclad, there is room for discussion.
"They will use the same master agreement they used with any other kind of vendor they worked with in their business, without really tailoring it to a freelance writer," Rafter said.
I had been impressed with Rafter and the contract negotiation skills she shared during her mid-morning ASJA session "Take the Fright out of Ghostwriting Books," where she announced her most recent publishing coup and offered ASJA members insight on the market for ghostwriting books. I was happy she was open to a quick chat.
Rafter's foray into ghostwriting came after penning hundreds of bylined stories covering business and technology for publications including the LA Times, CFO and PCMag.com. During the last few years Rafter stumbled into ghostwriting. Her first project was a request to write a proposal and outline for Breakthrough (2018), which tells the story of musician turned Catholic priest Rob Galea. Next, she ghostwrote a chapter in A Great Place to Work for All (2018). Rafter also was asked to ghost Driving Midsized Growth (2021), a business book on people management.
The West Coast-based writer's latest project came from contacts she cultivated at a PR firm that manages an annual HR technology conference. Rafter had routinely attended the conference to meet sources and generate story ideas, and now it's paid off with a ghostwriting book deal.
Over the next several months, Rafter is set to interview dozens of sources for the book. But even as Rafter and the PR firm signed off on most of the particulars—such as the number of sources she will interview, the amount of research she will do, and timelines for the deliverables, they had yet to come to terms with one thing: the dreaded indemnification clause.
"They gave me a master agreement that they used for all their vendors, and I found the indemnification to be overly onerous in terms of what I would have had to do if I had been found to be legally liable for something that I did that was against the terms of the contract," Rafter said.
The legalese of the indemnification clause can make freelancers' eyes glaze over when signing contracts for short-form projects. In many of its iterations, the clause assigns liability to the independent if the company faces legal action—if work the writer produces is challenged in court.
To Rafter, that standard indemnification clause did not fit the circumstance of an individual author drafting a book. As they went back and forth about the clause, Rafter reached out to other ghostwriters via social media for alternative language.
"Someone responded to my request with a very simple clause—I think it was two sentences long. It was much more limited in scope. Much simpler and more acceptable to me."
Rafter's content marketing work has led her to take out media perils insurance to protect herself from claims of libel and infringement, but she recommends that writers read and negotiate standard indemnification and other contract clauses that are less than friendly to independent writers. For this current project, her research paid off.
"I sent that back to them and was pleasantly surprised that they accepted it," Rafter said. "That was awesome because that was the one sticking point in that contract that we had not come to terms with already and so, 'Hurray!' We signed the deal."
Insights like Rafter's represent the benefits of the ASJA conference, which through its programming helps give independent journalists more insight into the business of writing as well as how they might grow as a writer beyond single story news, essay, and feature content.
That was helpful for me. For the past nine years I have bounced between staff and independent journalism projects with a focus on business, technology news, and policy reporting. Because of our similar reportorial interests, it was a treat to cross paths with Michelle Rafter.
Over the past few months thoughts of drafting a book have crossed my mind. When I registered to attend the conference, I was torn between the journalism track and the books track. I decided to focus on learning about the book world.
Whether a bylined or ghostwritten book is in my future is not clear, but after hearing Rafter's presentation and getting a chance to steal a few moments of her time between conference sessions, I know I made the right choice.
Cassie M. Chew was one of five scholarship recipients to attend this year's conference.
Browse Articles
Topic
ASJA, Ghostwriting, Networking