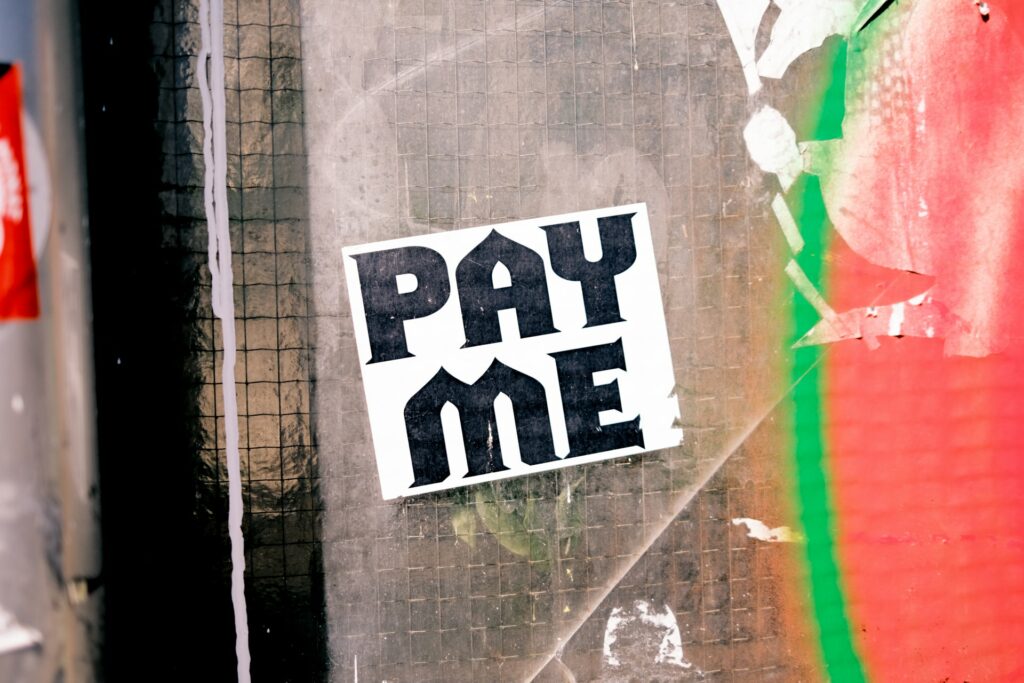 I never expected to be a freelancer. Too much risk, especially in getting paid for my hard work. So, after quitting my state job as a high school teacher, I had long conversations with friends and family members about what was next for me. "I want a boss and a salary," I said confidently. Six years later, I was on my fourth salaried job and freelancing on the side. Five years after that, I had quit the salaried job.
Getting paid is what makes freelancing so tough. No matter how good the contracts and clients, even the best of us gets stuck with an unpaid (or partly paid) invoice. Because I'm a low-risk kind of person, I quickly developed a process for collecting payment each and every time. As the industry has changed—and as I added content marketing clients to my journalism gigs—I've let the internet and virtual communications help me refine my approach.
In short, getting paid is a three-step process: 1) work with fiscally responsible clients and publications, 2) communicate clear expectations and deadlines, and 3) follow up, leaving a paper trail. Starting out in 2000, these markers required a sometimes clumsy and time-consuming approach including email, phone calls, in-person meetings, and snail mail. Today, I can manage each step with my computer and an internet connection.
Step 1: Vet the Client Well
I don't take just any job—I don't care how glossy the magazine or how big the company. Before working with a new client or publication, I do my due diligence. At the beginning of my career, that meant spending an hour or two at the local Barnes and Noble, flipping through magazines, while sipping a hot latte. Today, with a diverse client base, I'm spending more time researching potential clients online.
First, I google the editor, publication, and/or company. I want to know where my contact has worked in the past, as well as what other writers have to say about them (if anything). If it's a content marketing job, I want to know more about the company or the division. Is it new? What kind of revenue does it bring in? LinkedIn and Twitter are also great resources for learning more about how a company works with writers. In particular, I'm looking for red flags that might mean I don't get paid on time or that the editing process is overly cumbersome. Social media is a good resource for red flags. I belong to a number of free writers' groups (including the ASJA members' group on Facebook) and follow lots of other independent writers. I can search these profiles and groups for mentions of a client, which can help me round out my research.
Then I'll check the ASJA website to see if any members have worked with a client before. In the Find a Writer directory, I type in the name of the company or publication in the "publishing credits" field and click "search." Up comes all of the names of members who have worked with that particular company or publication. I scan the list and reach out to members I know for feedback.
Step 2: Get the Deal in Writing
One of the first things I learned in this business is that I don't need a contract to feel good about the writing assignment. In fact, sometimes I'd rather not sign a contract at all. That's because an email chain, detailing the specific conditions of the work—including rates, deadlines, and word count—acts as a legal contract, without a lot of the liabilities that some large legal departments will demand.
Once I connect with an editor or client, everything is done via email. That's because I want a clear paper trail of everything we discuss. If we have a phone or virtual meeting, I follow up with an email outlining all of the details of the conversation. But more and more often, I never speak to clients on the phone or even in a virtual meeting. In fact, a lot of the editors I work with prefer not to speak to writers on the phone, so a call could be off-putting.
Of course, content marketing is a different beast, requiring kick-off meetings or weekly updates via zoom. I'm very careful to outline the exact number of these meetings in my initial emails with the client. And I make sure to follow up each meeting with an email that outlines exactly what I've been tasked to do.
The key here is to keep everything in writing and file it away for future reference. If I need to have a contract, I sign it electronically and file it in the cloud. When I have a phone call or in-person meeting, I send an email that serves as a reminder of what we discussed. When there are questions about the project, I can refer to these documents so that the client and I can stay on the same page.
Step 3: Bill on Time—Then Follow Up, Follow Up, Follow Up
As soon as I get an assignment, I record it in my accounting software, which alerts me when it's time to send the invoice. It also keeps a running list of my outstanding accounts. I don't mind telling you that I hate this part of the process. I became a writer to write—but having the freedom to write means getting paid on time. Accounting is a necessary evil, and it's the best way I've found to follow up with clients on unpaid invoices.
For years, I used a simple spreadsheet to tabulate my accounting process. This required me to remember when an invoice needed to be sent and then to create the invoice itself in a separate program and send as an attachment via email. In the mid-2010s, I began using online software that automatically manages my accounts. It took some time to figure out the best ways to use this program, and longer still to get into the habit of recording my assignments quickly and accurately. But in the end, this annoyance has paid off. With one click, I can see which invoices have and have not been paid. I can get a weekly, monthly, and yearly account of my expected revenue. This program also helps me manage my deadlines, since I invoice on the same day the work is due.
My clients pay on varying timelines. My accounting software can manage a due-on-receipt, 30-day, 60-day, or even 90-day payment process. It can also tack on late fees and set up payment plans. This allows me to customize my billing to each client.
Invoices are one method for following up. Email is another. For a client who is well overdue, I will set a daily reminder to send an email asking about the progress of the payment. After a week, I may escalate to someone else in the company or look for someone in the accounting department. This is when a phone call might be useful—but again, I always follow the call with an email outlining what was discussed.
There have been times when I've had to put in extra work to get paid by a client—but the only time I didn't get paid was because I failed to follow up on invoices consistently. That client took advantage of my poor record-keeping, and I vowed never to allow it to happen again. Once I asked a lawyer friend to send a letter demanding payment, but I've never had to take a client to court. Keeping a cool head and a following a simple process has kept the income flowing, and I never hesitate to let clients go when they're not honoring the terms of our agreements. (For more information on how to avoid and resolve payment disputes, check out ASJA's self-help guide.)
The risk required for freelancing is daunting—we are our own marketing, logistics, information technology, and accounting departments. And the level of risk has increased considerably as technology and the internet have matured. Learning how to adapt to these new realities has been a game-changer for my career. In almost 25 years, I've gone from sending snail-mail pitches to shooting off simultaneous pitches via email. My career opportunities have changed, too, as the internet has limited my earning potential in journalism, while broadened it within content marketing. All of this change has required flexibility and a willingness to learn new technologies. But in the end, the core values are still there: make smart business decisions, communicate well and professionally, and you can definitely make a good living as a freelance writer.
Browse Articles
Topic
Freelance Life, Running Your Business, Tips