AJSA Honors Courageous Journalist: Daphne Caruana Galizia Named ASJA's Conscience In Media Award Recipient
NEW YORK – The American Society of Journalists and Authors (ASJA) is awarding its prestigious Conscience in Media Award to the Maltese journalist, writer, and anti-corruption activist Daphne Caruana Galizia.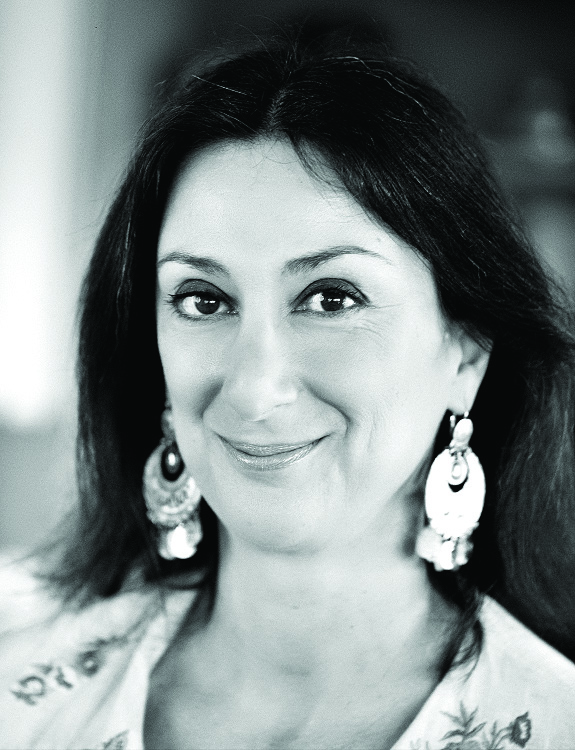 "The Conscience in Media award recognizes journalists who knowingly have endured great personal costs while pursuing the highest tenets of their profession," says Sherry Beck Paprocki, president of ASJA. This selective award has been presented only twelve times since 1975.
Ms. Caruana Galizia, 53, was murdered in her native Malta, a Mediterranean island nation, on October 16, 2017 after numerous threats and attacks to her and her family. She had been writing since 1987 and was the first person in Malta to have a signed opinion column. Since 2008 she published her self-funded personal blog, Running Commentary, and at the time of her death she was a regular columnist with the Malta Independent. According to her son Matthew Caruana Galizia, also a journalist, her first interview with a politician in 1989 was the first time a politician in that country was confronted about issues faced by the electorate. He added, "She was really Malta's first and, until recently, its only investigative journalist, for the 30 years right up until her assassination. Malta's debt to her is unquantifiable."
"Daphne Caruana Galizia represents the highest ideals of journalism: Courage, sacrifice and a firm commitment to the truth," says Sally Wendkos Olds, chair of ASJA's First Amendment Committee. "Her bravery and dedication are especially inspiring to us as fellow independent writers."
Ms. Caruana Galizia had been threatened numerous times – by a cocaine trafficker, a former EU Commissioner fired for bribery, a magistrate who had affairs with prosecutors, a political party donor, a money launderer, and others in politics and business. But she refused to stop her reporting into government corruption, nepotism, patronage, allegations of money laundering, and other misconduct by Maltese politicians. She was arrested by the Malta Police Force on two occasions. She was the first person to learn of the Panamanian companies before the Panama Papers leak of April 2016 and wrote about them. She has been called "the best investigative journalist Malta has ever seen."
As children her sons began receiving anonymous threats as a way of getting her to stop focusing on certain people. Before the assassination that finally silenced her, her house was set on fire on two occasions while family members, including the children, were inside. "After the second arson, police concluded that the attackers were from the military (the Armed Forces of Malta), but they were never able to make an arrest," says her son Matthew. Similarly, although three people were arrested in the car-bombing that killed her, whoever ordered the assassination has not been identified or charged. Despite her death, her legacy lives on.
"Our mother inspired us to stand up for ourselves and for others against abuse, wherever and however it happens," says Matthew, "to not squander our time, but rather to use it to try and make the world better." Her son Andrew is a diplomat, and his brother Paul is an economist. The Conscience in Media award will be presented to Ms. Caruana Galizia on May 18 at the Sheraton Times Square in New York during ASJA's annual conference. Her three sons and their father, Peter Caruana Galizia, a civil lawyer, will come from Malta to New York to accept the award.
The Conscience in Media award calls attention to the increasingly dangerous profession of investigative journalism. More than 700 journalists have been killed over the past decade, according to Reporters without Borders (RSF). Six murders occurred in 2017; in 2018 a Slovak reporter was shot to death while investigating corruption.
Founded in 1948, the American Society of Journalists and Authors (ASJA) is the nation's professional organization of independent nonfiction writers. Its members are outstanding freelance writers of magazine articles, trade books, and other forms of nonfiction writing, each of whom has met exacting standards of professional achievement. ASJA's First Amendment Committee speaks out against censorship, protests the banning of books, and recognizes exceptional journalistic courage.
PAST RECIPIENTS OF THE CONSCIENCE IN MEDIA AWARD
2015: James Foley, Steven Sotloff, and Austin Tice. Foley and Sotloff were murdered by ISIS. Austin Tice was kidnapped in Syria in 2012; his whereabouts remain unknown.
1994: Anna Elisabeth Rosmus, real-life heroine of the film The Nasty Girl
1992: Richard Behar, author, "Scientology: The Cult of Greed" (Time, May 6, 1991)
1992: Paulette Cooper, author, The Scandal of Scientology
1986: Jonathan Kozol, author, Rachel and Her Children, about homeless families in America
1981: Jacopo Timerman, Argentine author who documented the atrocities of the military regime
1981: Erwin Knoll, editor, The Progressive
1978: Donald Woods, South African expatriate journalist
1977: Investigative Reporters and Editors, a nonprofit organization that focuses on the quality of investigative reporting
1977: Don Bolles, reporter about the Mafia, murdered in a car bombing
1976: I.F. Stone, publisher of I.F.Stone's Weekly
1975: Jerald F. terHorst, White House press secretary who resigned in protest of Gerald Ford's pardon of former president Richard Nixon