Crisis Coverage Awards
We are thrilled to announce the winners of the ASJA Crisis Coverage Awards: COVID-19 Edition, the first-ever awards program recognizing writers for their coverage of the COVID-19 outbreak.
Writers were invited to submit English-language articles published between January 1 and June 30, 2020. ASJA teams of leading journalists judged submissions based on quality of writing and reporting and whether new information was provided or a familiar concept was given a fresh perspective.
Winners received cash prizes, and a portion of all entry fees were contributed to ASJA's Writers Emergency Assistance Fund.
---
"Picking the best from more than 500 insightful, well-researched and written pieces was difficult, because the quality was so high," said Janine Latus, chair of the ASJA Crisis Coverage Awards Committee. "ASJA is proud to recognize our colleagues' dedication, hard work, and willingness to wade through a sea of confusion to bring readers the truth during this constantly changing crisis."
---
Business & Economy
"Costco is Thriving During the Coronavirus Pandemic. Its Workers Say They've Paid the Price," by Brianna Sacks and Ryan Mac, for Buzzfeed.
Judges said: "Costco was one of a select few big corporations to emerge from the early months of the COVID-19 crisis with a good reputation for what it was doing to protect workers and customers alike. Make that, what we all thought Costco was doing. While other excellent entries in this category did bring out overlooked facets of this unusual time period—it was a tough field—the deep reporting here overturned what had become conventional wisdom."
Education
"Imagine Online School in a Language You Don't Understand" by Rikha Sharma Rani, for the Fuller Project and The New York Times.
Judges said: "Virtual schooling can be difficult for all children, but those whose first language is not English face unique challenges. This article addresses those obstacles through superb reporting and excellent storytelling. This well-written article provides meaningful examples of real-life issues."
Healthcare
"State Policies May Send People with Disabilities to the Back of the Line for Ventilators," by Liz Essley Whyte, for the Center for Public Integrity.
Judges said: "In a fleet of fantastic articles, this early April story stood out as exemplifying public service journalism at its best, shedding much-needed light on the threat to a vulnerable and marginalized population in a time of crisis. Whyte's piece featured incomparably deep reporting across all 50 states."
Honorable mention:

"Russia's Healthcare System Faced Cuts for Years. Now Medical Students Are on the Coronavirus Frontlines," by Evan Gershkovich and Pjotr Sauer, for The Moscow Times.
Judges said: "This compelling and expertly written piece, which ran in April, demonstrated how historical systemic challenges can exacerbate emergencies and provide an essential reminder that COVID-19 is truly a global crisis with wide-ranging healthcare impacts."
Mental Health
"The Biggest Psychological Experiment in History is Running Now," by Lydia Denworth, for Scientific American.
Judges said: "The article looks at the pandemic from two perspectives, big picture and ground level, and the many personal stories make the topic come alive. It is well reported and incredibly written. Denworth touches on almost every psychological aspect of the virus and leaves you wondering how we will fare in the end."
Personal Essay
"Poetry in the Time of Coronavirus," by Anndee Hochman, for Broad Street Review.
Judges said: "This piece is the epitome of the personal essay: something so grounded in the particulars of individual experience that it becomes universal. In terms of the COVID-19 experience, it exquisitely captures a specific transitional moment—in fact, the pivot from then to now—with grace and poignancy."
Honorable mentions:
"Just This Breath," by Heather Sellers, for The Sun.
Judges said: "When the disease itself is her metaphor, the writer can't fail to convince us. This is heroic narrative for an indelibly personal sense of life and death in the era of COVID-19."
"Under Lockdown in Italy's Coronavirus Quarantine Zone," by Kenneth R. Rosen, for The New Yorker.
Judges said: "Rosen's piece is beautifully written. We follow the author's father-in-law visiting around town and after much exposure coming home and reaching out to touch his grandchild–and the anger that follows when that is not okay with the parents."
Politics & Government
"Preparedness Spending Exploded After 9/11. Is That Helping Now?" by Michael Schulson, for Undark.
Judges said: "Deep and wide-ranging reporting combined with clear writing made this piece the standout among the dozens of excellent stories we reviewed. This story showed how the U.S. failed to capitalize on the public health improvements made in the immediate aftermath of the 9/11 attacks, creating gaps that have exacerbated the heavy toll of COVID-19."
Science
"Coronavirus May Be A Blood Vessel Disease, Which Explains Everything," by Dana G. Smith, for Elemental.
Judges said: "The piece covered several extremely complex topics but was still clear and easy to read, with strong writing backed by rigorous research. Because of the incredible quality of writing that's come out of this crisis, judges had a difficult time picking a winner."
Social Adaptation
"Processing Grief When Nothing is Normal," by Elizabeth Yuko, for Rolling Stone.
Judges said: "Of all the bewildering, heartbreaking things we've all dealt with during the pandemic, the loss of loved ones, and so many strangers, has been the most crushing. Elizabeth Yuko's words are a much-needed reminder that there are ways to deal with even this grief, and that whatever complicated feelings we're having, it's normal during this most abnormal time. It's a well-written piece on a strong subject with deep reporting."
Technology
"Tests to Detect Coronavirus on Surfaces Show Mixed Results," by Lina Zeldovich, for Undark.
Judges said: "This article wove narrative storytelling and thorough reporting, resulting in an interesting and important piece with a high facts-to-fluff ratio. Zeldovich went deep on a topic that concerns us all—how to prevent further COVID-19 infections—and made it accessible to both patients and professionals. The reporting and writing cut through the noise to provide an informative piece of journalism at a time when such work is more urgent than ever."
---
"For more than 70 years, ASJA has served professional freelance journalists," said Laura Laing, ASJA President. "Our members know the difficulties in documenting a rapidly unfolding story, and we wanted to recognize the tremendous work we were reading from around the world. These stories are clear examples of the importance of responsible and accurate journalism, whether it's done by freelance or staff writers."
---
ASJA enlisted the help of more than 70 judges to review the contest submissions. Each awards category was assigned a judging team of award-winning journalists and authors:
Category Coordinators: Salley Shannon, Sherry Paprocki, Mickey Goodman. Judges: *Cheryl Alkon, Sophia McDonald Bennett, *Stephanie Bernaba, Suzanne Boles, Bethany Bradsher, *Jessica Wambach Brown, Barry Burd, Tania Casselle, Caren Chesler, *Rebecca Christie, *Merlisa Lawrence Corbett, Ellen Count, *Diane Daniel, Lisa J Daniels, *Kristine Meldrum Denholm, *John Egan, *Arielle Emmett, Dan Ferber, *Lisa Fields, Sunny Fitzgerald, Stacey Freed, Linda Gilden, Beverly Gray, *Vince Guerrieri, Jennie Helderman, Parul Hinzen, Gloria Hochman, Elizabeth Meade Howard, *Casey Hynes, Tracy Ecclesine Ivie, Debbie Kaplan, *Kim Kavin, *Judy Kirkwood, Cindy Kuzma, *Ellen Lee, Christina Leimer, *Darcy Lewis, Charlotte Liebov, Ilima Loomis, Antonia Malchik, Linda Marsa, Pat McNees, *Debbie Miller, Eileen Moon, *Jennifer Nelson, *Keith Paradise, Emily Paulsen, Alicka Pistek, Kimberly Potts, Sallie Randolph, *Sarah Ludwig Rausch, *Deborah Robson, Christina Schweighofer, Susan Shafer, Ellen Sheng, Dava Stewart, *Marisa Sullivan, *Erica Sweeney, Lori Tripoli, *Stephanie Trovato, David Volk, Nancy Wade, Karon Warren, Robin Warshaw, Jill Wechsler, Dawn Weinberger, Robin Westen, Sylvia Whitman and Minda Zetlin. *Panel Head Judge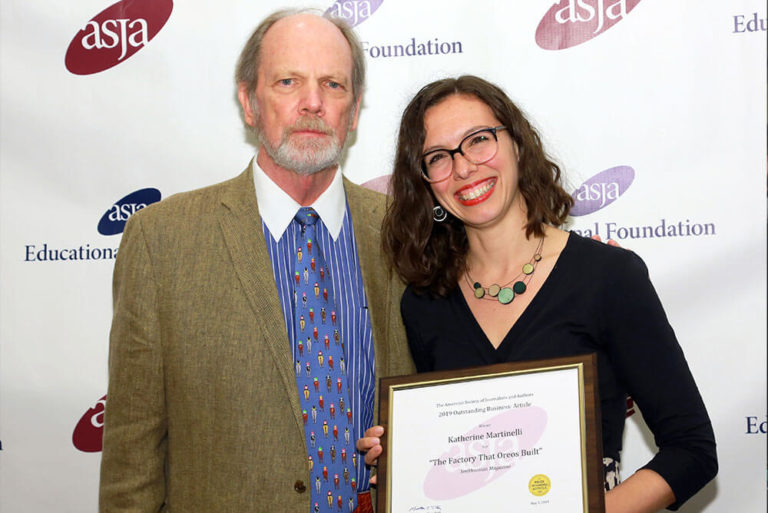 Awards
ASJA relishes in the opportunity to recognize exceptional freelance writing and writers. Our annual awards program highlights stellar nonfiction articles, essays, books, and content marketing writing in a variety of categories.
Learn more