All Business: An ASJA Education Bundle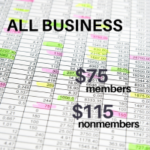 Successful freelancers know the best way to start and grow your writing career: "Treat your freelance writing career like a business." These recordings can help you get started in freelance writing or brush up on the basics and get up-to-date advice. You'll get access to four YouTube recordings:
Building Your Most Future-Resistent Career
During a time of tectonic shifts, from evolving platforms to AI, how do you build and maintain a writing career? Business coach, writer, entrepreneur, and former ASJA board member Damon Brown breaks down the three keys you need to unlock your best writing future while still being true to yourself.
9-to-5 to Freelancing: How to Establish Yourself as a Freelance Writer
Want to transition your career to freelance? This panel of successful freelancers shares how they transitioned from nine-to-five careers to full-time freelancing.
Negotiating for Writers
If the prospect of asking for more money, rights, details about a project, or time to write turns you to mush, you're not alone. Negotiating is hard. But it's essential to build and sustain a successful freelance writing career. And it's empowering! This session will help you overcome the fear of negotiating to get what you want. It's applicable to any writing genre, and to writers at any stage of their careers. Key takeaways include:
Why it pays to negotiate (literally)
How to deal with self-doubt and other self-sabotage
How to negotiate fees so everybody wins
How to negotiate for terms other than money
How to avoid common negotiating mistakes
How to negotiate with sources, editors, and publishers
When Michelle Rafter first presented this session at the ASJA writers conference in 2017, it was such a hit we asked her for an encore. Rafter is a long-time ASJA member, and business reporter turned ghostwriter who's written extensively about careers, work and workplace issues, and built a six-figure writing business based in part on her negotiating skills.
Contracts
Contracts protect freelance writers. They can also be difficult to understand and challenge. Attorney Joseph Perry outlines what you need to know about freelance writing contracts, when to push back on clauses, and even when to walk away.
There are four videos included in this Recording Bundle
After purchasing, you will receive an email with a link to the recordings.
Browse Conference Sessions