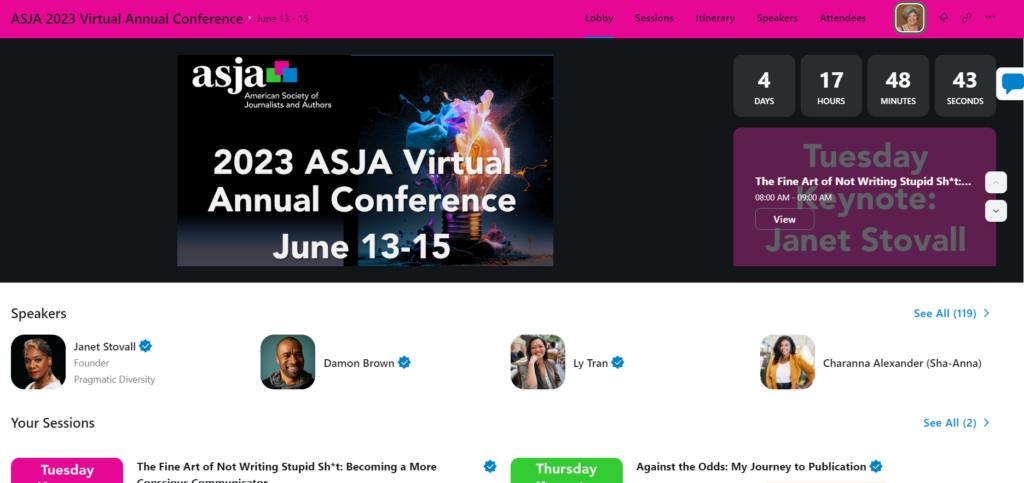 The 2023 Virtual Annual Conference June 13-15 starts in a matter of days. We're excited for everyone who's joining us!
The conference happens on Zoom Events, an upgraded version of Zoom with bonus features, including a searchable conference schedule, speaker bios, customizable itinerary, public Lobby Chat, and DMs.
Here are a few tips to make sure you have the best possible conference experience:
Sign up for Zoom or upgrade to the latest version. You must have a Zoom account to attend the conference. If you don't already have a Zoom account, get a free one here.
Check into the conference platform. Attendees should have received an email from Zoom Events with instructions for how to access the conference platform. If you don't see it in your inbox, check your spam folder. The email came from noreply-zoomevents@zoom.us.
If you already have a Zoom account, the email subject line will read "You are registered for ASJA 2023 Virtual Annual Conference."
If you don't already have a Zoom account, the email subject line will read "ASJA has invited you to register for ASJA 2023 Virtual Annual Conference". You will need to set up a Zoom account.
If you did not receive the email, please contact ASJAoffice@asja.org ASAP.
If you registered for the conference with an email address that is different from the email address associated with your existing Zoom account, please contact ASJA at ASJAoffice@asja.org and notify staff of the email associated with your Zoom account.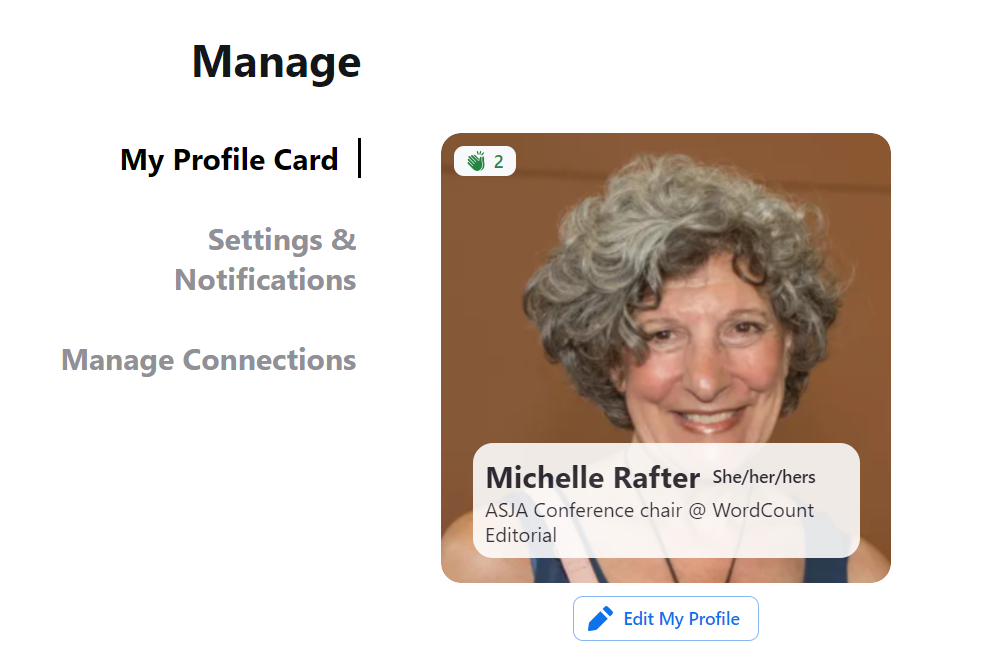 Update your Zoom Events Profile Card. Once you're on the conference site, update your Profile to add a photo, description, bio, and other descriptive information and fun facts.
From the Lobby, use the ellipses at the far right side of the main menu bar to bring up a drop-down menu, and choose My Profile.
Click on Edit My Profile
Fill out Basic Information, Photos & Videos, Personal Questions, and Social Media. Share as much or as little information as you want.
Save and Close.
Check out the conference hub. From the Lobby, explore other areas of the site listed across the top of the main menu bar:
Sessions. All conference sessions are listed here in chronological order. Session descriptions are identical to those on the ASJA website. Use the Filter function to search sessions by date, track, or category. Once the conference starts, use the "Hide ended sessions" function to turn off sessions that have already happened.
Itinerary. In the Sessions view, use the bookmark icon on the righthand side of the page to save sessions you want to attend. Bookmarked sessions will appear in date order on your Itinerary page. You can export your itinerary as an ICS file, in case you want to upload it to an online calendar.
Speakers. Speaker bios share information about people speaking at sessions, the sessions they will appear in, and any social media accounts they've chosen to share.
Attendees. Use the Attendees tab to flip through Profile Cards of fellow conference goers. Hovering on the cards brings up a text box icon, which you can use to send them a request to connect or a direct message.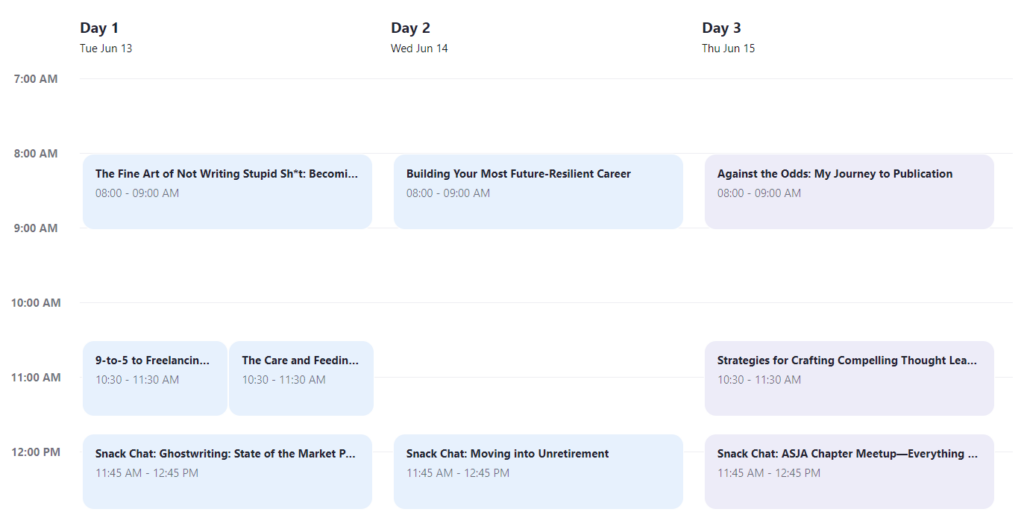 Know the difference between Webinar and Meeting sessions. Conference sessions follow one of two formats:
Webinars. Most sessions are webinars, where only speakers or panelists appear on the screen. Webinar attendees will be placed in a waiting room until 2 minutes before the session starts. During webinars, attendees are automatically muted but can use the Q&A to ask questions and the Chat function to share thoughts and reactions.
Meetings. All snack chats, the "Chatty Hour" happy hour on Wednesday, and some workshop-style or pitch slam sessions are formatted as meetings. These sessions look like typical Zoom calls, where everyone can see, hear and talk to each other. Attendees can ask audible questions and use the Chat functions to share thoughts and comments.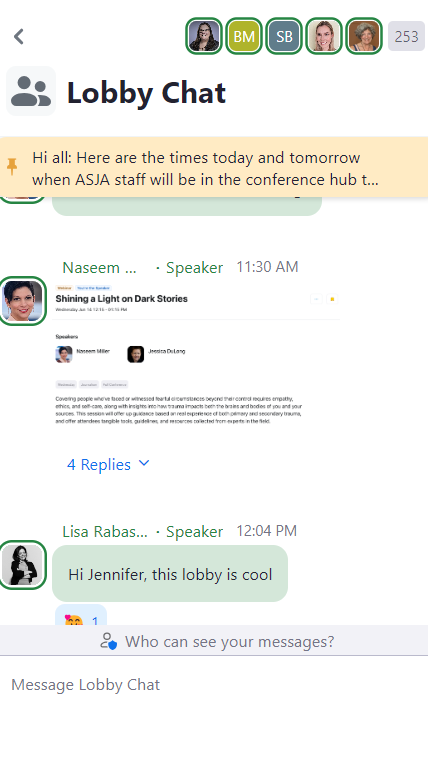 Use the Lobby Chat. The Lobby Chat feature runs down the right side of the lobby screen, the same spot as regular Zoom calls. Use it to post public comments and insights or to reply or react to comments from others. Click on the Participant List to search for speakers or attendees to send someone a private message.
Listen session recordings on demand. All sessions are recorded (except for snack chats) and recordings will be available within the conference hub immediately after a session has ended. Access to recordings corresponds to the registration package you bought. If you registered for one day, you'll have access to recordings for every session that took place that day. If you registered for one track, you'll have access to recordings of every session in that track as well as all keynotes and happy hours. If you registered for the entire conference, you'll have access to recordings of every session. Session recordings will remain live on the conference hub until Aug. 31. ASJA will sell session recordings to the general public; watch for an announcement about that soon.
Use the official hashtags. When sharing about the conference on social media, use these hashtags:
#ASJACon– main conference hashtag
#ASJAConBooks – Books track
#ASJAConJourno – Journalism track
#ASJAConCMW– Content marketing writing track
#ASJAConKeynote – Keynote speeches
#ASJAConSChat – Snack chats
#ASJAConHappyHour –Tuesday and Wednesday happy hours
Contact ASJA staff with any questions at ASJAoffice@asja.org or chat with staff in the Lobby Chat.