Our 2023 Writing Award Winners
First-Person Essay               
Winner: Hell in the SRO: A Veteran's True Story by Alex Miller in Esquire
With Hell in the SRO: A Veteran's True Story, Alex Miller delivers an unflinching personal account of his struggle — and the bureaucracy he must navigate to seek help. Moving fluently from the personal to the universal, Miller shares heart-wrenching details of his own journey through hell, set against thoroughly-reported context and statistics. Miller's courageous honesty about his own homelessness, addiction and trauma illuminate the tragic circumstances that far too many veterans, and a disproportionate number of Black veterans, must face. Miller unforgettably makes the case that America needs to do better by our veterans.
Opinion/Op-Ed
Winner: Here Comes Miss Ann: Black People Know the Likes of Margaret Court All Too Well by Merlisa Lawrence Corbett in The Guardian
In "Here Comes Miss Ann: Black People Know the Likes of Margaret Court All Too Well, " Merlisa Lawrence Corbett writes with a voice that is both distinct and authoritative as she examines racism in the world of tennis.
Reported Essay
Winner: We Saved the Puffins. Now a Warming Planet is Unraveling that work by Derrick Z. Jackson in Grist
Compelling and gut-wrenching reporting with a lot of research behind it. The author writes with emotion and persuasion. Said one judge, "I felt like it ended and I was holding my breath."
Honorable Mention: End Times in Aspen by Andrew Travers in The Atlantic
Incredible reporting mixed with personal essay elements for a dramatic read. The piece showed the author's careful, investigative research and a passion for the subject.
Profile
Winner: The Caregivers by Kelly Loudenberg in The Atavist Magazine
A beautiful, well-written and masterfully crafted profile. An impressive amount of research captures the true essence of the extraordinary individuals central to the story. The winning story demonstrates an excellent balance of reporting and creative storytelling with well chosen details that are simultaneously specific and universal.
Lifestyle
Winner: Beautiful Strength: 'Sobrevivir' Pays Homage to the Women Coerced to Sterilization in 1960s and '70s L.A by Carren Jao in KCET
The judges felt this piece was powerful, gut wrenching, beautiful and inspirational. The reporting was well researched and insightful, and the writer took an often-dismissed topic, put it into historical context, made it relevant and showed how mainstream the abuse of women's reproductive rights, particularly in marginalized communities, has become.
Trade
Winner: Roe Reversal May Go Well Beyond Abortion by Tara Haelle in Medscape
Tara wrote a compelling story about complex medical issues related to problematic pregnancies, illustrating the dramatic effect that restricting access to abortion has on women's lives and health. It could not have been easy to get the interviews Tara secured for this piece, and it took great skill and sensitivity to probe such a difficult subject with the women whose lives were endangered because doctors could not by law perform the procedure they required, even though they could have died without it.
Honorable Mention: Global Vaccine Inequity by Liz Seegert in American Journal of Nursing
Liz's skill with data-driven journalism shone a light on the inequity in COVID vaccine distribution worldwide during the height of the pandemic, and the lack of vaccine availability in low-income countries. Using multiple sources of data, Liz substantiated the complaints of an international coalition of nurses' unions to the United Nations and WHO about patent protections that prevented countries in Africa and South Asia from manufacturing mRNA vaccines for their own populations.
Travel
Winner: An Experiment in Nanotourism by Ruth Terry in Fields & Stations
Ruth captured our judges with the first sentence, "On the car radio, the Georgian folksingers' voices lilt and soar, but as I take in my surroundings, my stomach sinks." We traveled along as she adventured into good and not so good sides of nanotourism, and she motivated us to learn more about the meaning of it. It is an honest story, well told, and well presented. We liked it all combines, plus It gave us a unique view of the country of Georgia and delivered a message that it is fine for women to be traveling alone: If things go sideways, you can always try a good hotel.
Honorable Mention: Places Unexpected by Evan Nesterak in Behavioral Scientist ("Brain Meets World" print edition)
Along the way in this expertly crafted story, we learn that internal explorations can be as treacherous as worldly adventures.
Honorable Mention: Alone at the Edge of the World by Cassidy Randall in The Atavist Magazine
A well-written story that never succumbs to the hyperbolic journalism that dogged a brave sailor as she battled the elements in a small boat on a long ocean race.
Social Change
Winner: When the Heat Is Unbearable but There's Nowhere to Go by Sara Sax in High Country News 
This piece deftly combines two critical issues – prison reform and climate change. The writing is clear and compelling and it's obvious a great deal of research and reporting went into it. The author expertly pieces together the data and materials from interviews to write the story chronologically/in a way that keeps it moving along at a fast clip. This was a great read.
Honorable Mention: I Was Given a House for free – But it Already Belonged to Someone Else by Anne Elizabeth Moore in Guardian
Our judges admired the writing for its sheer honesty about real world issues. Indeed, some people want whatever they can get for free. Nevertheless, a fundamental fact is that there is no such thing as a free lunch. Also, given the nature of modern economics, social change must happen to avoid society collapsing. After all, political, economic, and social problems resulted in the fall of the Roman Empire, so people must avoid history repeating itself. Finally, nobody wants to live in the Middle (Dark) Aged anyways!
Health
Winner: Complex Saviors by Magdalena Puneiwska in New York Magazine
A compelling story, told using narrative, detailing new information and protocol for healthcare workers to identify victims of human trafficking.
How-To  (formerly Service)
Winner: Bridge the Gap: Our Differences Don't Have to Keep Us Polarized by Katherine Reynolds Lewis in Experience Life
We selected this piece because it's highly topical and the presentation of the complexity of the problem and how to work through it fit very well to the "how-to" treatment. The incorporation of both expert insight and real-life examples was well-balanced and made for a solid piece of journalism that tackles a common and relatable problem in today's society.
Food & Drink
Winner: Our Braided Bread by Benjamin DuBow in Longreads
Benjamin's piece manages to be an idiosyncratic personal essay about one man's intimate relationship with his sourdough starter, as well as a Jewish historical lesson, fish out of water story and elaborately detailed recipe all in one.
Honorable Mention: Kanaye Nagasawa: The Samurai Who Forever Changed California by Melanie Haiken in BBC
Melanie Haiken's in-depth well-researched BBC profile "Kanaye Nagasawa: The Samurai Who Forever Changed California" shines light on a largely forgotten pocket of history and reminds us how a single person – in this case a Japanese immigrant -played a vital role in shaping American food culture.
Honorable Mention: In Asturias, Cider is Not Just a Beverage in a Bottle by Sofia Perez in Whetstone Journal
Sofia Perez's richly detailed, engaging Whetstone Magazine account "In Asturias, Cider is Not Just a Beverage In a Bottle" shares the background (and potential future) of a regional Spanish drink. She not only provides the reader with a strong sense of a place and its people, but also conveys how so much cultural weight can be translated onto this unique beverage.
Excellence in Reporting
Winner: Why Is It So Hard to Compensate People for Serious Vaccine Side Effects? by Tara Haelle in National Geographic
With this piece, Tara Haelle deftly tackles a complicated and controversial topic while weaving in compelling narratives from people who have suffered from severe vaccination side effects — and she does so by presenting the facts and addressing the shortcomings of an outdated system.
Technology
Winner: AI's New Frontier: Connecting Grieving Loved Ones With the Deceased by Caren Chesler in The Washington Post
Fascinating topic and well done. A balanced look at a new practice of grieving that some might find compelling, others horrifying.
Business, including Marketing
Winner: As Drought Hits Farms, Investors Lay Claim to Colorado Water by Jennifer Oldham in Civil Eats
This story is a captivating tale about the collision of water rights, economic growth and rapid population growth. The author provides extensive information about the owners of water distribution companies and the conflicts between farmers and non-rural users of water. As water resources become more scarce, this story sheds much-needed light on a topic that profoundly affects our lives and the lives of generations to come.
The Arlenes: Articles That Make a Difference
Winner: Physical Therapy for Native American Populations by Michele Wojciechowski in APTA Magazine
Wojciechowski's article for APTA about physical therapy for Native American and Alaska Native populations targeted a niche audience but deeply influenced healthcare responses and patient care on the Navajo Reservation (documented) and surely did so in other places, as well (though not documented). Furthermore, the piece helped the Thundering Buffalo Health & Wellness Center gain grant money.
Honorable Mention: When an Estranged Relative Dies, Some Face Grief, Regret and Relief by Caitlin Kelly in The New York Times
Kelly's piece on grief in The New York Times clearly touched a sensitive nerve with readers. The reported essay pulled in over 1300 comments. The Times even ran the story a second time, one year later, and the piece appeared on the homepage of nytimes.com.
The Arlenes: Books That Make a Difference
Winner: Finding Ecohappiness: Fun Nature Activities to Help Your Kids Feel Happier and Calmer by Sandi Schwartz
With technology so prevalent in our lives, sometimes too prevalent, connecting with nature feels more important than ever, and especially for kids. This offers great practical tips that anyone with kids can immediately put into practice.
Honorable Mention: Traveling Different: Vacation Strategies for Parents of the Anxious, the Inflexible, and the Neurodiverse by Dawn M. Barclay
Insightful, astute, sympathetic, comprehensive, and packed with penetrating advice, invaluable information, and bountiful resources, this book will make a real difference in the lives of many families. Barclay's exhaustive, well-organized and well-thought-out coverage of the myriad issues that arise in traveling with special-needs family members fills a real need and bespeaks her deep expertise, genuine concern for her readers and contagious enthusiasm for travel. An important contribution.
Blog Post
Winner: Good Intentions by Janice Lynch Schuster
This moving blog reminded readers about the power of reaching out to people who are grieving and the effect this can have. Although Schuster's piece was fairly short, it packed in a dramatic surprise, sweetness and poignancy.
Science
Winner: Trees are Overrated by Julia Rosen in The Atlantic
"Trees are Overrated" is a very well written and engaging, effortless read; well researched and enlivened by good interviewing of people whose conviction is moving. It contradicts our commonly held views on the value of trees vs grassland with seeming objectivity and makes its case beautifully. The judges were not only convinced, but led to care about the issue and remain concerned long-term.
Honorable Mention: With Old Traditions and New Tech, Young Inuit Chart their Changing Landscape by Cheryl Katz in Hakai Magazine
This big-hearted story skillfully explores the efforts of the Inuit people of Canada's Hudson Bay region to maintain their traditional lifestyles in the face of climate change. Counterintuitively, glacier loss is causing the bay's floor to rise, creating navigational challenges and other threats. The writer wisely chooses to carry much of the story through young people, who act as citizen scientists to map their local seafloor even as they learn traditional skills like beluga hunting.
Honorable Mention: True Grit by J.B. MacKinnon in The Atavist Magazine
"True grit" reads like a good novel, something a lot of narrative feature writers attempt to do but don't succeed. The writer maintains our interest not just with well crafted narrative and eloquence but with humor. And you wind up caring deeply about the main characters, three cows, not because the writer anthropomorphized them like Babe, the pig, or Charlotte, the spider, but by showing a great struggle they faced and the courage and fortitude they used to overcome it.
Fitness & Sports
Winner: Behavioral Science in the Backcountry by Greg Rosalsky in Behavioral Scientist ("Brain Meets World" print edition).
We liked how the story started with a gripping anecdotal lede, and from there expanded into a variety of elements, including social science, psychology and the whys and hows of decision making. This story will probably save lives.
Honorable Mention: King of the Hill by Jana Meisenholder in The Atavist Magazine
It was a long story that didn't read like a long story, on a topic that a lot of people probably aren't familiar with. The author really immersed herself into the entire culture, and there were a lot of good details and background.
The Donald Robinson Memorial Award for Investigative Journalism
Winner: A Matter of Honor by Sarah Souli in The Atavist Magazine
This is an excellent piece that demonstrates extensive and original investigative reporting — along with very well-written prose. The reporter clearly had little access to few concrete facts and stayed with the story for an extensive time period, doing a lot of footwork and challenging interviews, then wrote a gripping, well-organized story.
Honorable Mention: Tyson Says Its Nurses Help Workers. Critics Charge They Stymie OSHA. by Alice Driver in Civil Eats
We felt this story also showed extensive reporting and interviewing, which was well incorporated into a story along with statistics and an exploration of federal standards and rules. The story did an excellent job of portraying what has been found in federal investigations. It was a tremendous enterprise story.
June Roth Memorial Award for Outstanding Medical Book
Winner: Healthy Heart, Healthy Brain: The Proven Personalized Path to Protect Your Memory, Prevent Heart Attacks and Strokes, and Avoid Chronic Illness by Lisa Collier Cool in Little Brown, Spark
This book provides patients with critical information for their health and well being and actionable steps to take. As one judge noted, "I have so many notes now to take with me to my annual physical to ask my doctor!"
BOOKS
General Nonfiction
Winner: The Other Side of Prospect by Nicholas Dawidoff in W. W. Norton & Company
This is a layered story, describing the history of a town, a neighborhood within it, people who live there, and an event that was violent and all too common in Modern America. By exploring these different perspectives, the author brings a story that may have taken 30 seconds to tell on the news to life, including rich details and dimension.
Memoir/Autobiography
Winner: The Loneliest Places: Loss, Grief, and the Long Journey Home by Rachel Dickinson
Rachel Dickenson's book about grief is beautiful, haunting, and explores a topic many of us would rather avoid, but that all of us will experience in one form or another in our lives. The essays are connected, but not chronological, and their arrangement is an important part of the beauty of the book as a whole. Grief and healing are big topics and Dickenson shares her family's experience with great vulnerability.
Biography
Winner: The Monster's Bones by David Randall
Readers are taken on a truly poetic adventure through time from the very first page. Each carefully crafted sentence is its own individual treasure. The book is in perfect harmony structurally, technically, and historically, and would make an excellent and compelling read for both adults and young adults.
Honorable Mention: POOR RICHARD'S WOMEN; Deborah Read Franklin and the Other Women Behind the Founding Father by Nancy Rubin Stuart in Beacon Press
Poor Richard's Women told the story of Benjamin Franklin and the (many) women in his life with grace and humor, ushering the reader along with engaging prose and excellent utilization of quotes from her subjects. The book's angle is both fresh and entertaining.
Service
Winner: The Book Bible by Susan Shapiro in Tablet
Susan Shapiro offers practical and actionable advice along with personal nuggets to make what could be a run-of-the-mill how-to book engaging and fun to read.
Children
Winner: Planktonia: The Nightly Migration of the Ocean's Smallest Creatures by Erich Hoyt
Science, history and photography are ably combined in this visually stunning book to provide a rich educational experience.
Honorable Mention: Moody Moody Cars by Eileen Kennedy Moore
CONTENT
B2B Article
Winner: Telehealth and Access, Fulfilling the Promise by Emily Paulsen in urac.org
Detailing the history, current status, and future issues surrounding telehealth, this piece is thorough and very well organized. Telehealth is a complex and nuanced topic, and Paulsen does an excellent job of examining it from multiple angles.
B2C Article
Winner: Suddenly Speechless by Jane Langille in Mind Over Matter
The article begins with an attention-grabbing hook that effectively draws the reader in by using examples of famous people like Joni Mitchell and Bruce Willis. Overall, the article provides a comprehensive overview of aphasia, including its causes, symptoms, impact on quality of life, and available therapies. The writing quality is clear and concise, with a professional tone appropriate for a scientific or medical publication while remaining approachable for a more general audience. The information appears well-researched and references studies, experts, and organizations. The organization of the text is logical, with clear subheadings and sections that aid in navigation. The call-out boxes offering additional resources and examples of the condition are especially helpful and user-friendly.
Honorable Mention: A Guide to OKRs and Overcoming the Pain of Them by Jennifer Riggins in The New Stack
Long-Form
Winner: #A11y: Accessibility Is Part of the Developer Experience by Jennifer Riggins in Container Solutions
Jennifer Riggins goes beyond business-to-business writing in this piece to deliver human-to-human content that is engaging and memorable. With a variety of relevant sources and easily digestible copy and quotes, she defines problems and presents solutions with clear language — and has some fun along the way.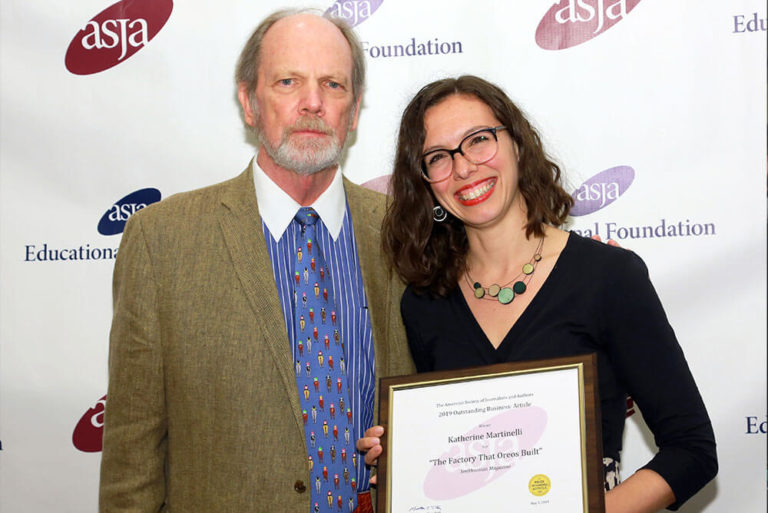 Awards
ASJA relishes in the opportunity to recognize exceptional freelance writing and writers. Our annual awards program highlights stellar nonfiction articles, essays, books, and content marketing writing in a variety of categories.
Learn more